Welcome To The American Association of University Women (AAUW) of Beaufort, South Carolina
---
The Etta N. Mann Non-Traditional Student Scholarship
The Beaufort Branch of the American Association of University Women is offering its annual scholarship to a woman 21 or older who is returning to college following an interruption in her education. The applicant must be a woman who resides in Beaufort County, has a high school diploma or GED, and is returning to college or technical school in pursuit of her associate's, bachelor's, or R.N. degree. The $1500 award is applicable to tuition and fees only and will be paid by AAUW directly to the school.
The applicant must demonstrate scholastic aptitude and leadership characteristics as well as financial need. The scholarship is part of AAUW's mission to promote equity and education for women and girls. The deadline for the application is 4pm, April 15, 2023.
Applications are available at the financial aid office of USCB at 801 Carteret Street, the financial aid office of TCL at 921 Ribaut Road, or by email from Dr. Beth Hammond-Perry at ejh49@uscb.edu.
---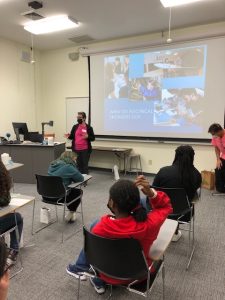 STEM Day Feb.12, 2022
STEM DAY Grant Awarded by 100 Women Who Care
Executive Committee 2023-2025
President Janice Herbert
Immediate Past Co-Presidents Dr. Angela Peery and Peggy Scott
Program Vice President Dr. Angela Peery
Membership Vice President Tally Essman
Recording Secretary Gina McNiel
Financial Officer Marcia Behrens
Meetings and Events
All meetings are held at First Presbyterian Church, 1201 North St., Beaufort, SC at 6pm and include a speaker and dinner.
Oct. 25, 2022– Speaker Barb and Phil Cusamano "Mercy Me Living Sober"
Nov. 15, 2022– Speaker Barbara Thomas "Habitat for Humanity"
Jan. 24, 2023– Speaker Blaire Lent. "The Complete Student"
Feb. 11, 2023– LAUCH STEM CAREERS Day for Middle School Students at USBC
Feb. 28, 2023– Speaker Carson Bruce "Women and Finances"
Mar.28, 2023– Speaker Mary Rivers LeGree "The Gullah Culture"
April 25, 2023– Speaker MaryLou Brewton. "Historical Beaufort"
May 16, 2023– Scholarship Presentation
Please see our Facebook page!
https://www.facebook.com/AAUWBeaufortSC