Welcome to the AAUW Hilton Head, SC, Branch Website!
The Hilton Head Branch began as a satellite of the Beaufort branch in 1979.  It came into it's own in 1986.  Members are drawn from the area "South of the Broad" which stretches from Hilton Head Island to Sun City.
Meetings are held monthly from the Fall through May.  The meeting location will vary based upon the type of meeting and to accommodate our wide membership.  Yearly, we do have a fundraiser to raise funds for our annual Mature Women's Scholarships as well as to donate to the AAUW Educational Foundation and local community organizations. Our focus is to support education and equity for women and girls.
In addition to our regular meetings, we have several special interest groups.  We also encourage branch participation in our state organization, especially the Legislative Day in February and annual meetings. We also join with other local organizations, including the League of Women Voters to sponsor joint meetings.
For membership information, please contact our Membership Vice-President, Giselle Denton at giseled@msn.com.  Dues include membership in the national association, state and local branch.  All but $3.00 of the dues paid to national are tax deductible.  Our latest newsletter is on the site for information about current meetings and interest group information.
View our latest newsletter for information about current meetings and interest group information: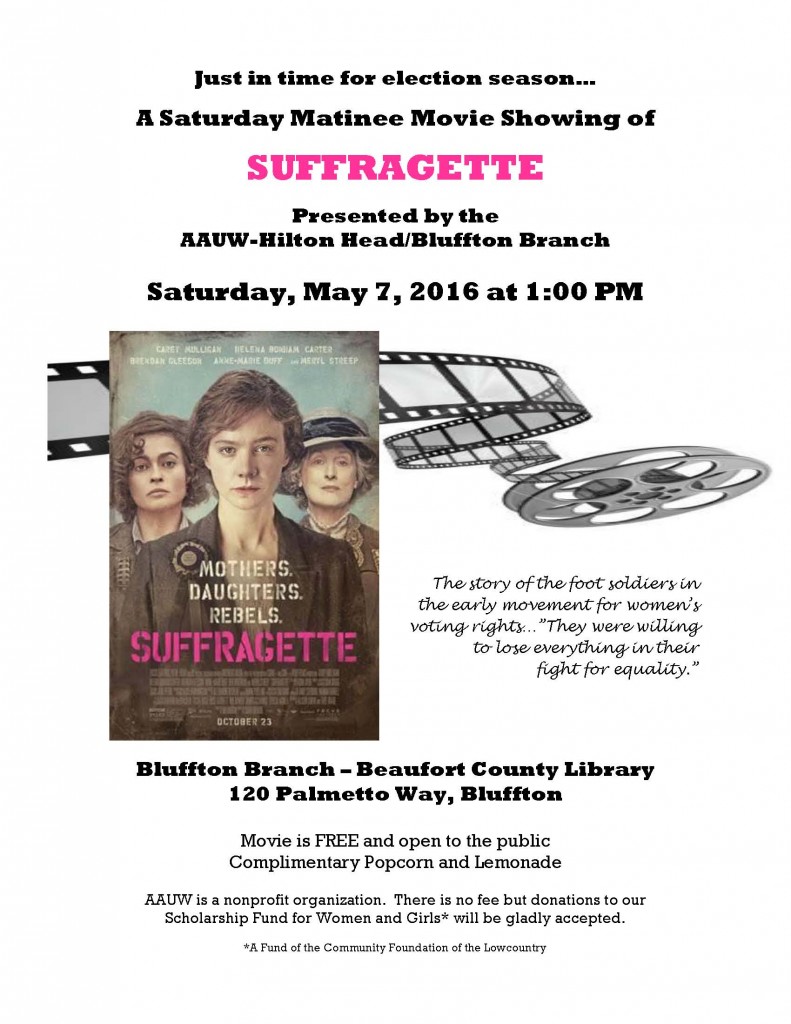 The Hilton Head Island AAUW will be showing the movie "Suffragette" on Saturday, May 7, 2016 at 1:00 PM at the Bluffton Public Library located at 120 Palmetto Way, Bluffton (off Rte 46.) After the screening, there will be a follow-up discussion.
The event is free and open to the public. Complimentary popcorn and lemonade will be served.

Annual Scholarship Award Luncheon
Thursday, May 21, 2015 ~ 11:30 a.m.
South Carolina Yacht Club
Introduction of our 2015 Scholarship Recipient
Presentation by Lydia Inglett, Publisher of SOUTH, a celebration of heritage and a treasure for future generations, a commemorative heirloom of Southern culture.
Annual Report by Co-Presidents Donna Bafundo and Cynthia Smith

Current Officers & Committee Chairs
Hilton Head Branch Scholarship Program Gets Underway for 2014
In our efforts to support educational and career development of women, the Hilton Head Branch of the AAUW is pleased to present its 2014 scholarship offering.  An individual scholarship of $1,500 will be awarded.  The award is applicable to tuition and fees only and will be paid by AAUW to the college, university, vocational, or technical school.  Documented proof of continuation or acceptance into a 2014 program of study is required.  The award must be used by the end of the 2014 calendar year.  Previous recipients are eligible for consideration, but must reapply.
The application process requires the applicant to review the eligibility requirements, print a copy of the application, include the required enclosures, and mail a completed and signed application by the postmarked deadline, March 28, 2014.
Please click here to download the 2014 scholarship application. For further information, applicants may contact the Scholarship Chair, Cynthia Smith, at cjpsmith@roadrunner.com.

Hilton Head Branch Calendar of Events for 2014-2015
Date
Event
Time
Location

Tuesday,
September 23rd

CDM & Heritage Library speaker
Rebekah Dobrasko

5:30 pm

Coligny Theater

Tuesday,
October 7th

High Tea
Honoring our members
Dorothy Anderson, Lois Claus, Alma Cordle

4:00 pm

Seabrook

Wednesday,
November 12th

J Banks
Holiday Theme

3:30 – 5:30 pm
J. Banks

Thursday,
December 4th

Holiday Celebration @ Sea Pines
Downton Abbey Fashion Show

12:00 pm
Sea Pines Country Club
Wednesday,
January 21st

Art Night @ Arts Center
w/ Alana Adams

6:30 – 8:30 pm
Coastal Carolina Arts Center

Tuesday,
February 10th

Guest speaker from USCB @ USCB
Dr. Brent Morris

4:00 – 5:00 pm
USCB

Tuesday,
March 24th

Savannah Taste Experience
Tour of Savannah Restaurants

12:00 pm
Savannah

Saturday,
April 25th

Author / Publisher
Lydia Inglett

TBA
Seabrook

Saturday,
May 21th

Luncheon

11:30 pm
South Carolina
Yacht Club
Please check the latest issue of our newsletter for more information about events above as well as our Book and Trips and Treks interest groups.